- Article Continues Below Advertisement -
Following on from WandaVision's Episode 6 Easter eggs and call-backs, we take a deeper look into those we found during Episode 7. This episode seems to have had fewer Easter eggs than the previous episodes but was filled with moments that's ask or answer questions.
Please note this is not an exhaustive list but some of those that we found of particular interest or potential importance. Also if you have not seen this episode then there will be spoilers ahead.
Well, WandaVision has done it again. For every question the series answers it seems to ask another two. As seems to be the pattern since episode 3 the episode is split between scenes inside and outside of the Hex (which after last weeks episode is now even larger). Monica and Jimmy Woo are both on their way to meet the Aerospace Engineer while Vision is back inside the hex and joined by Dr Darcy Lewis.
Sitcom Style
The inspiration this week was taken from post-2000 sitcoms like Modern Family and The Office. The opening credits were heavily evocative of The Office and the way the series was constantly breaking the 4th wall with characters not only looking directly into the camera but speaking to the audience while doing so.
Commercial
- Article Continues Below Advertisement -
Before moving on with the episode's Easter eggs and callbacks lets look at this week's commercial. The cast of the commercial used the same actors as the previous ones (except last week's animated one). We were introduced to an anti-depressant called NEXUS, which may in itself be a reference to the comics. In the comics, Wanda herself acts as the nexus for the multiverse. She is the converging point of all the various realities in the multiverse.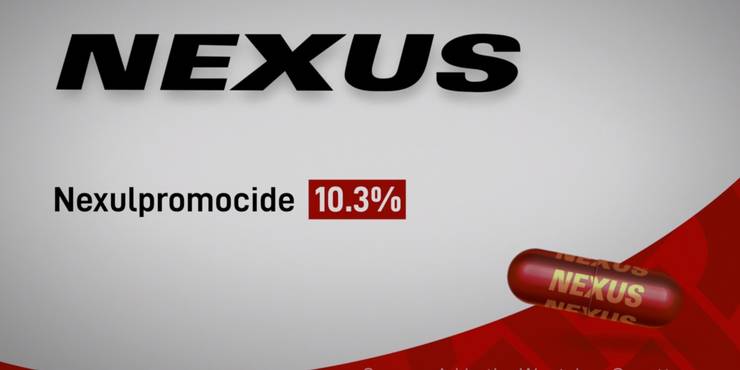 The drug says it can allow an individual to anchor themselves to the reality of their choice; side effects include "feeling your feelings, confronting your truth, seizing your destiny, and possibly more depression."
Aerospace Engineer
This is one of the misdirects that we seem to be getting a lot of during this show. The first big one was the beekeeper who appeared in episode 2. Fans instantly started theorising over who he could be? The answer came a couple of episodes later when he turned out to be nothing more than a random S.W.O.R.D. agent.
Monica previously mentioned she knew an aerospace engineer who would be able to help her get back into the Hex. Instantly people started looking at who in the Marvel Universe this could be. Various names came to mind and those of the forefront were Reed Richards, Sue storm, Hank Pym and Hank McCoy. Big names in the Marvel Universe but the answer came this week.
And who was it? None of the above. It turns out to be Major Goodner. A leader of a section of S.W.O.R.D. that is loyal to Monica.
Monica's Powers
One of the moments fans have been waiting for is when Monica will eventually get her powers, especially after the tease last week. Fans were eventually satisfied when Monica received her powers this week. After meeting with her aerospace engineer contact and failing to break through the Hex with the space buggy, Monica charges straight into the barriers. On the way through, her powers are awoken in a scene reminiscent of the scene where she returns from the blip. The scene is filled with voices and comments from the Captain Marvel movie.
- Article Continues Below Advertisement -
Maria: "No, no I can't. I can't leave Monica."
Young Monica: "Mommy, it's OK. I can stay with Grandma and Pop-Pop."
Maria: "There's no way I'm going, baby. It's too dangerous."
Young Monica: "Mom, maybe I could fly up and meet you halfway."
Fury: "Only if you learn to glow like your Aunt Carol."
Maria: "And you were the most powerful person I knew."
- Article Continues Below Advertisement -
Dr. Harley: "Your mom, she died, honey."
Jimmy: "She was truly an inspiration. Sorry."
Carol: "Your mom's lucky. When they were handing out kids, they gave her the toughest one."
Photon/Spectrum
After emerging from the barrier, Monica is clothed in black and white. This is a reminder of her outfit as Spectrum in the comics. What name she will go with here is yet to be seen as she may use the codename her mother used, Photon, or she may go with Spectrum. I'm sure we will find out in an upcoming episode.
Agnes and her magic book
Who is Agnes? Another question that has been on fans lips, but one that fans were almost certain they knew the answer to. And it turns out the fans were right to suspect that Agnes was indeed the famous comic book witch, Agatha Harkness. The reveal was met with a new credit scene that revealed Agatha was behind it all.
During the reveal were introduced to a brief glimpse of a leather (or skin) bound book that was shrouded in magic. This book is known in the comics as Darkhold. It was seen in Ghost Rider and also in Agents of S.H.I.E.L.D.
Post-Credits Scene
Every episode has had fans hanging on through the credits, waiting for the MCU famous post-credit scene. Well, this week's episode finally saw one arrive and what a moment it was.
This scene shows Monica attempting to find a way into Agnes' house until she finds an entrance into the basement. As she opens up the doors we see a character who has been suspiciously absent from this episode, Pietro. Or at least the person who is playing the role of Pietro. He approaches Monica and says "Snoopers gonna snoop".
While these are certainly not the extent of the Easter eggs and callbacks in this episode, these are the ones that stood out most to us. If there are any you think we missed let us know in the comments below. And don't forget to tune into Disney+ next Friday to watch the penultimate episode.
- Article Continues Below Advertisement -