- Article Continues Below Advertisement -
Following on from WandaVision Episode 3's Easter eggs and call-backs, we take a deeper look into those we found during Episode 4.
Please note this is not an exhaustive list but some of those that we found of particular interest or potential importance. Also if you have not seen this episode then there will be spoilers ahead.
This episode took a step away from the sitcom format to give way to something that gives us a better idea of what is actually happening outside of Wanda's pocket reality. We get an insight into Monica Rambeau's MCU origin story and possibly get a better idea of what is actually happening in Westview… Or at least we think we do.
So let's just jump straight into it then.
Monica/Maria Rambeau
- Article Continues Below Advertisement -
As mentioned this episode acts as an origin story of sorts for Monica (not including Captain Marvel). The episode opens with Monica being "unsnapped" and retuning from the blip. (If you listen carefully to the voices as she unsnaps you can just make out the final words being that of Captain Marvel, saying Lt. Trouble). This coincides with the events that took place in Endgame when The Hulk snapped everyone back who had been snapped away in Infinity War. Check out this video below of the two events happening simultaneously.
When Monica first arrives at Westview she sent in a drone, that is coloured with the same scheme as Captain Marvel's suit. This is a reminder that it was Monica who chose the colour of and style of the suit in the movie.
We also learn that Monica's mother, Maria, did not snap away. Sadly, she passed away two years later, but when she was alive, Maria had been working in a high-level position, possibly even founding S.W.O.R.D. This was probably due to all the craziness that happened during the 90s. She also used the callsign "Photon" which is one of the names used by Monica in the comics.
S.W.O.R.D.
When Monica arrives at the S.W.O.R.D. headquarters she meets with Tyler Haywood. He mentions an astronaut training program that isn't going so well. Is this a tease to the upcoming Fantastic Four project?
Jimmy Woo
FBI agent Jimmy Woo makes his MCU return in this episode. And he did so with a great reference to his appearance in Ant-Man and the Wasp. He shows off the fact that he has mastered the card trick that Scott Lang performed in the movie.
The Beekeeper
We finally got to see who the Beekeeper was and to be honest, I'm a little disappointed. It was revealed he was simply a S.W.O.R.D. agent attempting to break through to the pocket reality. There were several theories as to who it may have been but at least we now know… Although I was really hoping it would have linked to Mephisto in some way.
Vision
- Article Continues Below Advertisement -
It turns out here that we got a glimpse of what Vision's true form is. He is a colourless husk with a gaping hole in his forehead. This is a stark reminder of what Thanos did during Infinity War.
Jimmy Woo's Whiteboard
We will do a breakdown of the whiteboard in the coming days but for now the key things to take away from this are that the citizens are real people. Some of these names are the crew members from the show.
One name that has not been filled in is that of Agnes…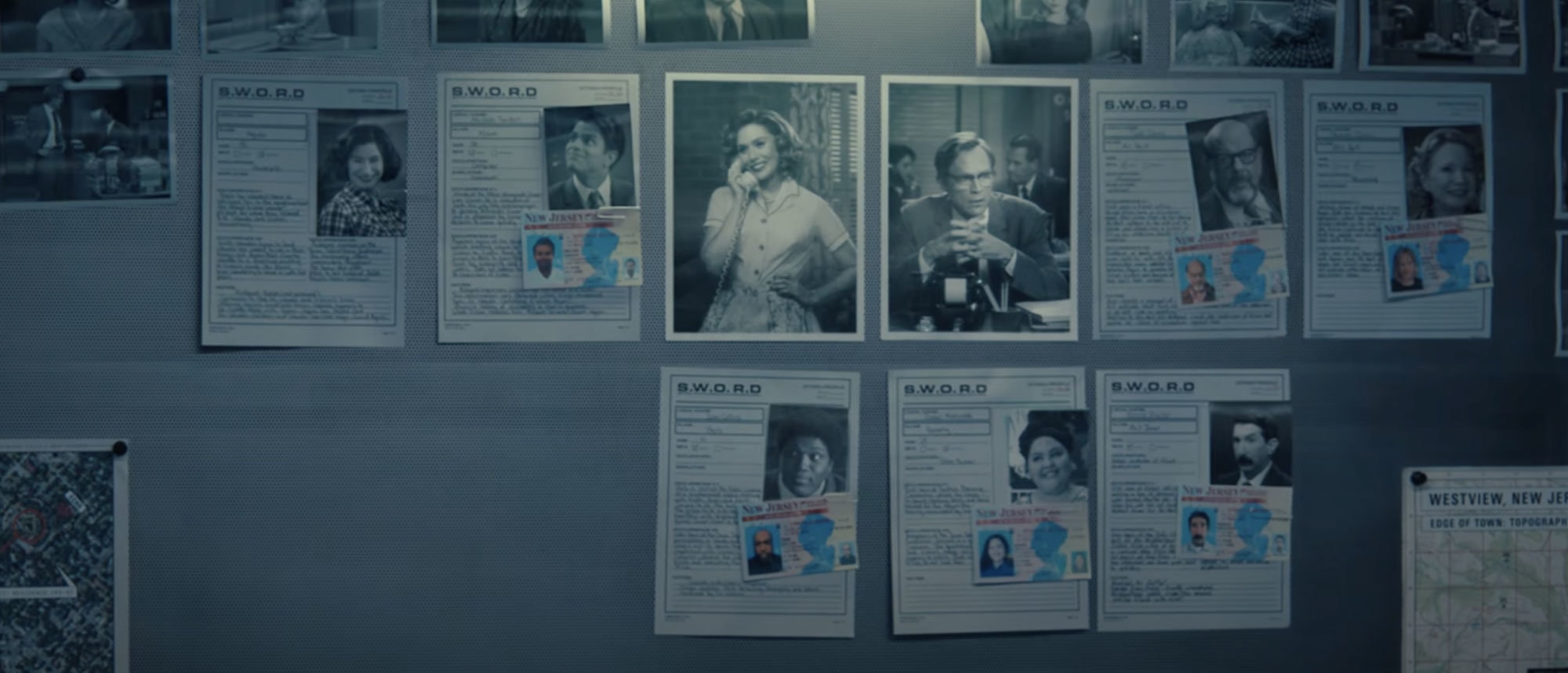 The Skrulls are mentioned on the board. We know they are at least working with S.W.O.R.D. but Agent Woo obviously thinks they may have more to with this … You may have to wait until Secret Wars for that Jimmy.
These were our biggest spots of the episode. Are there any big ones we missed?
- Article Continues Below Advertisement -