- Article Continues Below Advertisement -
This weekend saw fans of the Marvel Cinematic Universe tune in to Disney+ to watch the first two episodes of WandaVision. While the series' style is based upon a variety of sitcoms from over the years, it appears each episode has its own particular inspiration. Also within each episode are a multitude of Easter eggs and call-backs to movies and comics. Below we will take a look at some of the ones we have spotted so far.
Please note this is not an exhaustive list but some of those that we found of particular interest or potential importance. Also if you have not seen these episodes then there will be spoilers ahead.
The opening music has been written by Kristen Anderson-Lopez and Robert Lopez who have written a unique song for each episode.
Episode 1
The inspiration for this episode was clearly the Dick Van Dyke Show. Even the general layout of Wanda's house is reminiscent of the sitcom. The series producers had even met with Van Dyke for a kind of sitcom boot camp.
- Article Continues Below Advertisement -
This though is not the only nod to classic sitcoms. The two-episode premiers starred Debra Jo Rupp who is almost considered Sitcom Royalty, with appearances in That 70's Show, Newhart and Seinfeld to name a few.
Episode 1 Easter Eggs
As previously mentioned there was plenty of Easter eggs that could be seen in this episode and there will be many that we didn't notice. Of those we did notice these are the ones, we consider having the most importance.
Wanda and Vision's neighbour Agnes seems to be more important than she appears. Her name Agnes may be a reference to the comic character Agatha Harkness, who is a witch in the comic books and a servant of Mephisto. She may also actually be Agatha Harkness herself. AGatha harkNESs.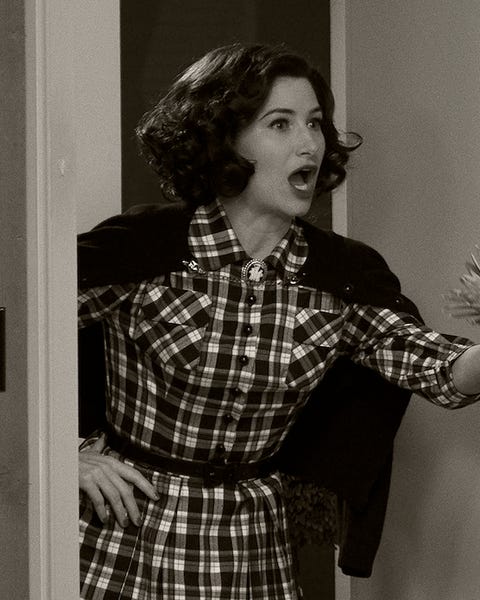 Wine Bottle
During the dinner scene, we see Wanda pour everyone a glass of wine labelled "Maison Du Mepris" which translates to "House of Contempt" or if you leave the last word untranslated then it would be "House of…" The bottle also has a huge letter M on the neck of the bottle. This is a nod to the House of M comic storyline where Wanda lost her mind and control of her powers.
TV Commercial
Each episode is broken up with a TV commercial and in the first episode, we see them advertising the Toastermate 2000. The obvious callback here is that it is made by Stark Industries and the noise as the toaster is about to pop is the warm-up sound of Iron Man's repulsors.
There is also a more subtle easter egg here. The light on the toaster flashes red and makes a sound that beeps faster and faster almost like a ticking bomb. This is a stark reminder (no pun intended) of Wanda and her brother's origin of sitting next to a Stark industry bomb. This light is also the first bit of colour in the series.
End Credits
- Article Continues Below Advertisement -
The end credits for WandaVision are, like the intro, presented in a style reminiscent of a sitcom. In this case, it is the sitcom I Love Lucy. But these are not the real credits. The play prior to the real credits and are a bit of a meta-joke about Marvel's post-credit scenes.
Between the "fake" and " real" credits we get a shot of what appears to be some kind of Mobile Command Centre. On the desk in front of the monitor and on a display beside the monitor is a logo of S.W.O.R.D.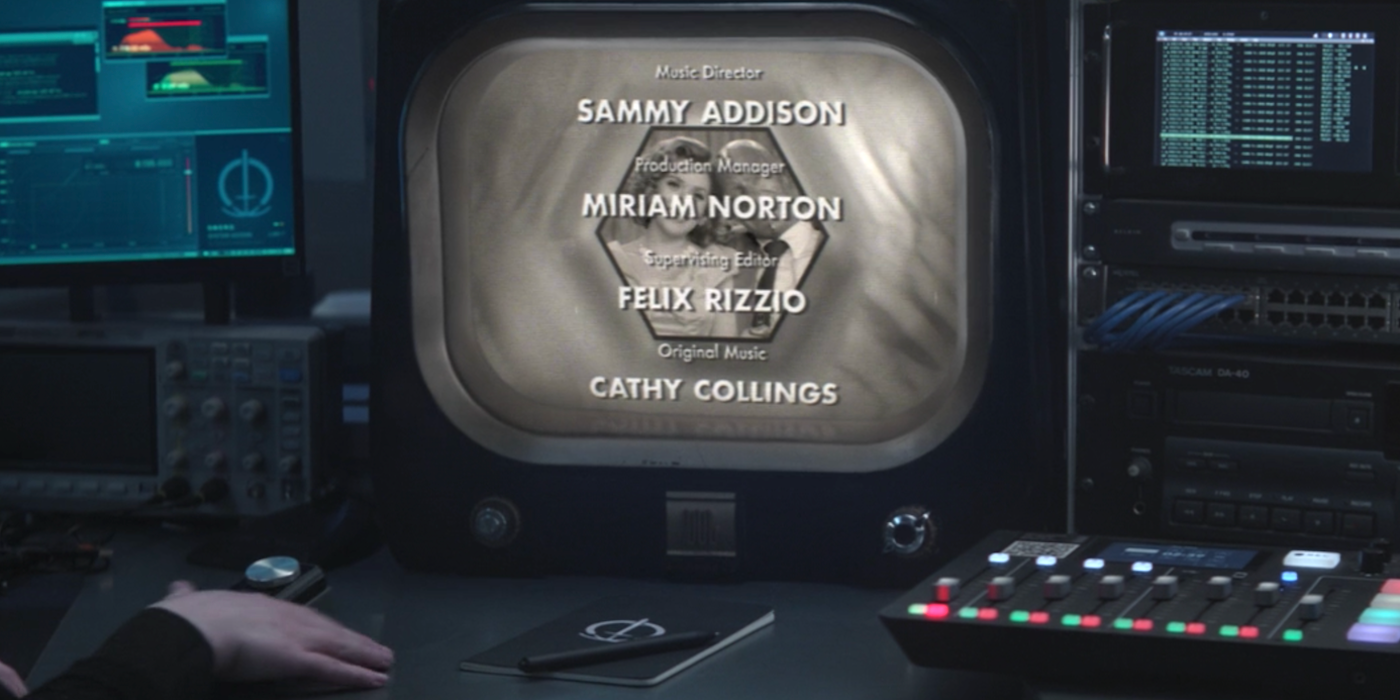 Exactly what role S.W.O.R.D will play in the series is yet to be confirmed but we are looking forward to finding out in the coming weeks.
What was your favourite Easter egg in episode one? Let us know in the comments below.
Keep an eye over the coming days where we will cover the key Easter eggs that we found in episode 2.
- Article Continues Below Advertisement -